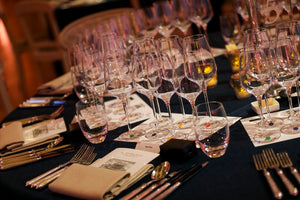 Wine, the catalyst to cement business relationships
Lunzer Wine events put to use the ideal catalyst for cementing business relationships, entertaining clients, and bringing people together - Wine!
Let Peter host and entertain your valued clients and colleagues with his infectious passion, deep knowledge, and tongue in cheek presentation. Our bespoke and endless variations of corporate and wine themed events amplify your business desired objectives for any occasion. 
Lunzer corporate wine tasting events can be stand alone events but are designed to complement lunches, dinners, meetings or conferences.
Over the years, Peter has spoken at functions with several hundred guests to more intimate gatherings with just a handful of guests. Each tasting is designed to meet the client's specific requirements in terms of venue and budget.
What we offer
Our four most popular themes. 
New World versus Old World 
One of our most popular themes explores the concept of old and new and introduces one of Peter's inclusive methods that makes all guests trust their own judgement. 
Collaborations between traditional and modern wine makers span all regions of the world where grapes are grown. Yet climatic differences in vineyard regions make wines unique to that region and long may that last. The question is which style do you prefer? 
By placing two glasses at a time in front of guests the choice is simple for each person to vote for the one they like most. 
What a Difference a Year Makes
Presenting pairs of wines is useful for people to judge simultaneously what they prefer. However, it becomes even more fascinating when it is the same wine, from the same producer, but grown one year apart. It is all about making perfect grapes to turn into perfect wine but if your growing season is marred by low temperatures and cloud, then producing perfection is a real challenge. We carefully select consecutive years where the difference is blindingly obvious to demonstrate why making wine can be an anxious process.
The Marriage of Food and Wine
Another hugely popular concept for obvious reasons. We all know that wines are made to be enjoyed but they are also produced with the intention of accompanying the regional cuisine where they are grown. Therefore, when producing Chardonnay in the New World, the maker can create a strong and sometimes oaky flavour because it matches Pacific Rim Cuisine with coriander, lemon grass and chilli which may overpower the nuances of a rich white Burgundy.
We specialise in showing how a wine can be made to jump through hoops with different foods before serving some food which is idyllically complimentary.
A Taste for Investment 
Some parts of the wine growing world are challenged by fluctuating weather patterns and a good example of this is Bordeaux. 
When Bordeaux wines are produced in perfect conditions, they can develop power and complexity which will allow them to improve in bottle over many decades. 
This popular theme demonstrates why some wines are destined for an inflationary future whilst others will be consigned to history in a short space of time.
100% Bespoke Events
Our events are bespoke and can be tailored to suit most budgets, from small scale in-house events to ultra-exclusive venues, to a more informal and intimate setting. 
The scope of our events is endless, spanning from 350 people to just 6 people., Our expertise allows you to choose the best format for any occasion. You can lean back and trust us do it all or choose one of the myriads of options in our bespoke service: 
Wine tasting dinners from 6-150 people.
Wine tasting experience with or without canapés.
Cabaret/keynote speaking.
Closing entertainment after an event.
Wine tasting, stories, and anecdotes between presentations or as a finale for the kick offs, product launches, conferences, summits etc.
Taking two people on a private jet to Tuscany and opening doors to vineyards not open to the public.
If you just have a few clients, invite them to one of our ticketed events including luxurious Virtual Tastings or wine themed events, with or without Posh Picnics!
Other ideas, just ask us and we can work together on making it happen.
In-person or virtual?
We organise both in-person or virtual events. 
 For all events, we have a number of prestigious collaborators and contacts in the food and catering world should you require outside catering for an in-house event. 
 For our in-person envents, we work with some amazing venues in the UK and abroad. Part of our service is to advise clients on the range of venues available and we work closely with Leading Venues of London. LVL is uniquely placed to efficiently source all options available for your chosen date.
Fill out the form below and we can help create your perfect wine event.